SVB, Signature, Credit Suisse Fail Bitstamp No Crypto Payouts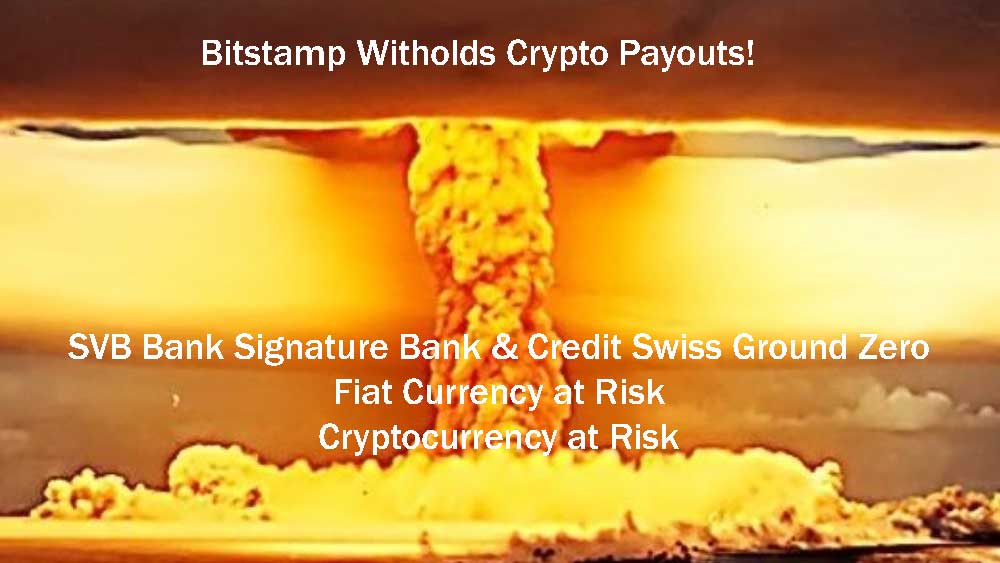 SVB, Signature Failure Spreads To EU And Credit Suisse While Bitstamp Stops Crypto Payouts
The failure last weekend of Silicon Valley Bank was a shock for some, specially those who had large amounts of capitol in the bank. This was followed by a run on Signature bank. As of this writing HSBC (Hong Kong Singapore Banking Corp) has bought the SVB assets in the UK for 1 UK Pound, about $1.18 plus sales tax. They are now looking to pay the same for the USA branches. Bank failures continue as bankers never pay for their wrongdoing.
EU banking has stuttered
Credit Suisse has failed and has been bailed out with $54 billion by the Swiss Government.
But the good news for the denizens of digital banking President Biden has promised everyone will get their money. Like mana from heaven. Furthermore Biden stated that those funds will not be paid by taxpayers. We are not sure how that will work. We are pretty sure the huge accounts will be covered by our mounting national debt somehow or other.
Bitstamp stopped Crypto payouts
Seems Bitstamp blocks your account until you install software and hook up cameras to your computer or buy an advanced smart phone so they can touch you and feel you before they might give some access to your funds. In an email to a client Bitstamp stated that "for security" the gentleman should go and borrow a phone or camera, then install video sharing software. It is unknown at this time if anyone would be able to withdraw any Cryptocurrency.
We could not verify that with Bitstamp, nor would we trust to give them money and see if the same thing would happen to us. We can just note that Bitstamp has blocked any withdrawal of Crypto currencies until you buy a camera or smart phone and install third party software, and even then they might not give you your funds. All that is for "security."
It seems that you do not need any of these procedures to get an account and buy cryptocurrency. You can buy, you can trade for other currencies, but you cannot withdraw. One might wonder does Bitstamp actually have any cryptocurrency? Perhaps they let you play, never having any of the cryptocurrency on hand and just take all the money as assets and use them as such. You would never know if they are robbing you blind until you try to withdraw real cryptocurrency.
If it is a bank, fiat or crypto do you trust them?
What could be happening is they take your money and tell you have cryptocurrency, It goes down or you lose money on trades, finally you want your cryptocurrency out, but they will only let you take dollars, no cryptocurrency. You can never take the cryptocurrency into your own wallet, then they might have to actually BUY some to give to you.
If you have an account with Bitstamp we would like to hear from you. If you actually can move Crypto out let us know.